This is a modified version of Adar Uniforms popular baby doll solid scrub top in White. This charmer fashion scrub top lets its ruffles land in a completely different place which gives it a very feminine look. Self binding trims the curved mock wrap bodice for shaping. It also defines the double borders of its curved midriff. The frilly ruffles enhance sleeve edges and hemline. It's back tie belt for shaping and adjustments. Also included are two generously spaced lower pockets wherein you can place your handy paraphernalia and other personal belongings. The fabric used for this scrub top is polyester and cotton combination.
Baby doll top with self binding trims
Two roomy patch pockets
Curved mock wrap bodice with self binding trims, double borders of its curved midriff, frilly ruffles and back tie belt detail
Center back length: 27" (inches)
Adar Medical Uniforms's Women's Product
65% Poly/35% Cotton,Poplin
Add Embroidery first line for $4.49 and $2.49 for additional lines.
From the Desk of Scrubs Stylist:
The nurse scrub top is quite possibly one of the most popular professional uniforms in history. The super breathable and highly dignified nurse uniform has been into many changes to satisfy varied preferences without compromising the basic function of the uniform - to make the nurse efficient while fulfilling the rigorous demands of the nursing profession.

Check out AD-620 - Adar women two pockets baby doll scrub uniforms. This style fits well to the description of nursing scrubs. Designed as a superb yet affordable scrub, this offers the well-loved appeal of a mock wrap scrub with comfortable and durable construction for comfort and ease of movement. Without a doubt, Adar medical uniforms is one of the best scrub providers today that offer functionally stylish uniforms.

Actually, this style is a modified version of one of the most popular brands from Adar - baby doll solid scrub top in White. This remarkable scrub top is styled with ruffles that provide a feminine appeal. There are self binding trims along the curved mock wrap construction for more body shaping. You will be captivated with all its details and accents. This one defines the double borders on the curved midriff. The ruffles bring out the sleeve edges and hemline while it has back tie belt for shaping and adjustments

This cheap scrub top is also designed for efficiency. It has two spacious lower pockets where you can place your important hospital tools and other personal belongings. This is available in standard white and in flexible sizes from XS to 5XL.
Fabric Care
Like other solid scrub tops and pants from Adar, this one has a superior type of fabrication made from 65-35 polyester cotton poplin. This is a special kind of fabric blend commonly used by Adar to reinforce the resistance of their medical uniforms against most types of stains. With the added polyester, the fabric is less absorbent so stain cannot penetrate the fabrication making it almost effortless during laundry time. It is best to use lukewarm water and mild detergent to avoid early wear and tear. Fabric conditioner during the final wash can bring out quality and color.
Coordinates and Recommendations
The best part in shopping for your uniforms comes in finding a match. AD-620 can easily match up with a stylish pair of Adar scrub pants. You can always depend in choosing a scrub set from the same brand. This will make certain that you enjoy the same quality of comfort and shade of color. For this style, you can try AD-502 - Adar unisex two pockets elastic waist medical scrub pants. This Adar scrub pants is a classic straight leg scrub pants from Adar with wide comfort elastic waistband that can adjust to your fit.
How to Measure
How to Measure: Determining the accurate size for your body is half the struggle. A perfect fit scrub does not only look smart and professional but also keeps you comfortable for thise long tiring days. Grab a measuring tape and get started. Make sure you grab the tape straight and snug not tight to your body.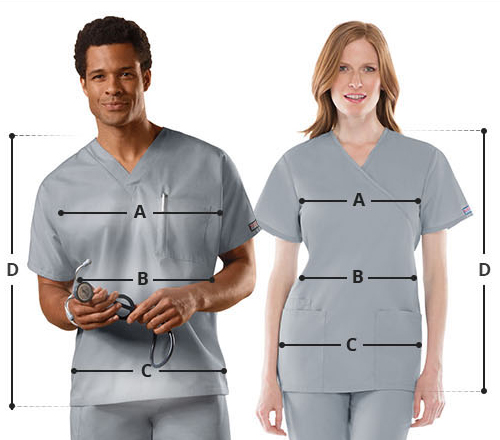 A. Chest: Measure under your around the fullest part of your chest.
B. Waist: Keep the tape loose and measure around your natural waistline.
C. Hip: Stand with your heels together and measure around the fullest part of your hip.
D. Length: Measure from where the shoulder meets the neck to the bottom hem of the garment.