After settling with the all too common nursing scrubs designs, Landau stages new era of fashion scrubs by introducing elegant Landau scrub tops. Not only are they elegant, but also oozing with feminine sophistication. Health care professionals can expect to have a never before seen style of nursing scrubs. Among the best items is the beautiful new Landau scrub that prides with glossiness, softness, and totally comfortable fabric.
Here at Pulse Uniform, we use three types of codes, which will lead the searchers to three different colors, along with highlighted details and pricing. The said colors were carefully chosen to match the Landau scrub top's elegant design. They emulate Wisteria, Cherry Blossom, and Ivory, with product codes LA-8415MA and LA-8415MW respectively.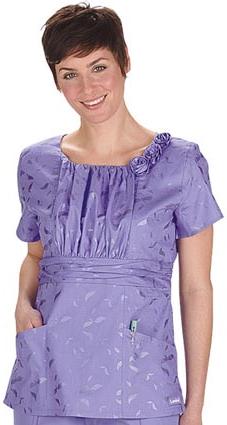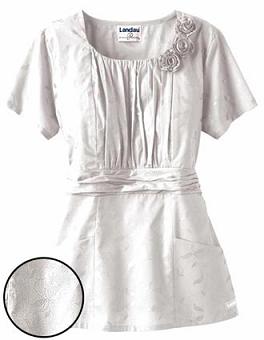 Going into details, the latest Landau scrubs feature pretty rosette accents, adorned to the top's left neckline. As you take your eyes down, you will notice another adornment that involved a pretty simple trick of gathering together some parts of the cloth to create rather playful and unorganized pleats, ending down the empire waist. At the empire waist, there you will find a soft rouched waistband, which looks pretty much like the second mentioned accent. Running down to the hemline are the princess seams that enable a shapely cut. And working with the princess seams to make a curvy figure is the center back elastic. For a touch that boosts every adornment, Landau used 100% lightweight cotton with chintz.
As expected of 100% cotton-made nursing scrubs, new Landau scrubs pride with soft comfy material that is just what medical industry workers necessitate. Such type of fabric is breathable, feels soft in the skin, and lets the wearer move with ease. Feel free to check each of our sophisticatedly elegant Landau scrub tops by clicking on the featured images. Also find more of Pulse Uniform's Landau scrubs.