Autumn is the most colorful season in a year despite its being associated with melancholic atmosphere. When the green tree leaves starts becoming yellow, orange and red, the entire place suddenly turns colorfully amazing! And as the ground becomes covered with the colorful falling leaves, sceneries look even more marvelous. You, too, can look as marvelous as autumn itself by wearing autumn themed medical uniforms.
Besides the popular autumn prints that can be found from among the Cherokee scrubs and Dickies uniforms, health care professionals can work their way to a fashionable autumn look simply by playing with colors. This year's autumn colors advance from the colorful bright tints to the more melancholic shades of colors, which include khaki or creamy brown to dark brown, purplish red to maroon, bluish white to grey, and metallic grey to black.
Your Color Coded Autumn Medical Uniforms List:
1. Cherokee Scrubs khaki or creamy brown fits the season just perfectly as khaki and cream are the most popular colors for 2010 autumn colors.Model is wearing CH-3811 or Cherokee scrub top with contrast trim on the deep v-neckband, angled empire waistband and back ties that give this top a two in one effect. A splash of gold metallic piping accents the deep v-neckband. Completing the style are the front inset, soft shirring and two side angled pockets. The matching scrub pants is a Cherokee flare leg workwear pants for women, with product code CH-4101T. It's a tall Cherokee tall scrub pants with adjustable front drawstring, back elastic waist, slash pockets, one back patch pocket, and side vents.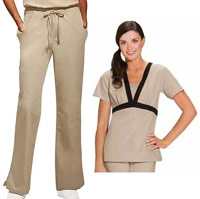 2. Dickies Uniforms in cappuccino color easily blend with other autumn colors like black and grey allowing for a more autumn-like fashion statement.Model 1 is wearing, DI-C15312, a classy Dickies Black Label mock wrap top, with sash at empire waist that ties in the back and two patch pockets. The scrub top also has soft garters along sash that allows flattering fit. Model 2, on the other hand, is in DI-C10833, a v-neck scrub top from Baby Twill fashion collection. Accentuating the scrub top is the decorative tape at the neckline, front pockets, and side vents, which were well tailored along with the princess seams. To match any of the two Dickies uniforms is the DI-853102 Dickies junior Hip Flip pants, especially made for women. This product has a simple but classy fit to the wearer's body, using its elastic waist for shaping, two slash pockets, and side vents at hem so pants fits easily over shoes.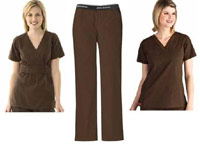 3. Dickies Uniforms ceil blue color fits personalities who always try to focus on the bright side of things. It balances gloominess with the nature's natural blessings.The scrub top worn by the model is the DI-C15215 from Dickies Daisy collection. It's a 100% cotton-made smocked waist mock wrap top that has stitch down pleats accented empire waist. For further improved fitting are the soft garters along the bust and the elastic smocking on the back waist. It also has got two patch pockets for that common nursing scrub detail. The scrub pants featured is the DI-C55015P, also a 100% cotton-made nursing scrub from Dickies Daisy collection. Featuring wide leg design and drawstring, this scrub pants assures the necessary fitting. And for safe keeping of some valuable stuff, it also has one back patch pocket as well as two side pockets.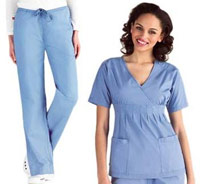 Cherokee scrubs prints in silvery grey, pink, white, and black finds the perfect blends of autumn to winter fashion transition.Scrub jacket from Cherokee Tooniforms print collection stands out with its front zip, knit cuffs, knit side panels, and flexible silhouette. Its jewel neck design and two hidden front pockets complete the autumn fashion look. To better emphasize the scrub jacket's style, we match it with a black Cherokee scrub pants called "The Hug." It's the scrub pants worn with the twist as the item is reversible. The slimming curved seaming and the fashion flare legs also add great shape.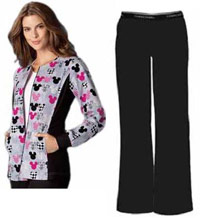 See complete selection of Dickies Scrubs and Cherokee Scrubs.